Cat Medium Wheel Loaders:
982M Wheel Loader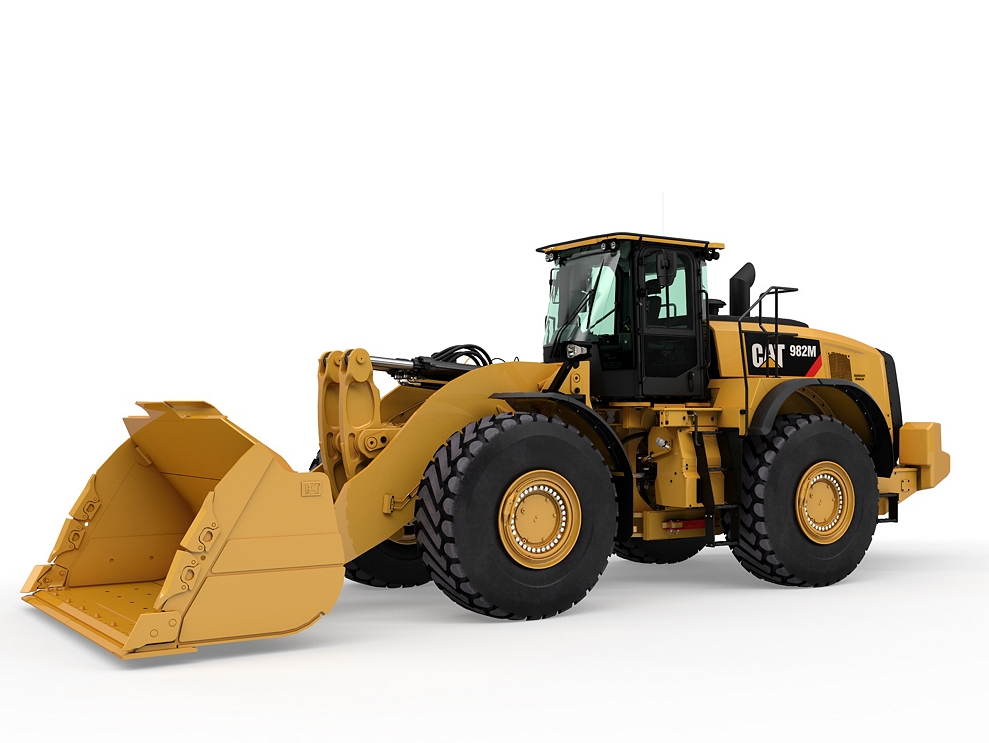 Net Power - ISO 9249

373 hp

Operating Weight

78402 lb

Bucket Capacities

4.6-12.0 m³ (6.0-15.75 yd³)

Engine Model

Cat C13 ACERT
The new 982M Wheel Loader, with the 2017 product update, applies proven technologies systematically and strategically to meet your high expectations for reliability, productivity, fuel efficiency, and long service life. This all-purpose machine is a great 2-pass match for larger on-highway trucks, bank excavation and even face loading in well shot rock applications. Long standard lift arms make the 982M an excellent rail car loader. Meets U.S. EPA Tier 3 and EU Stage IIIA equivalent emission standards.
---
---
Product Specs
Engine

Net Power - ISO 9249

373hp

Engine Model

Cat C13 ACERT

Displacement

763in³

Maximum Power @ 1,800 rpm – SAE J1995

412hp

Maximum Power @ 1,800 rpm – SAE J1995 (metric)

417hp

Maximum Power @ 1,800 rpm – ISO 14396

406hp

Maximum Power @ 1,800 rpm – ISO 14396 (metric)

412hp

Maximum Net Power @ 1,800 rpm – SAE J1349

373hp

Maximum Net Power @ 1,800 rpm – SAE J1349 (metric)

378hp

Maximum Net Power @ 1,800 rpm – ISO 9249

373hp

Maximum Net Power @ 1,800 rpm – ISO 9249 (metric)

378hp

Peak Gross Torque (1,300 rpm) – SAE J1995

1617lbf-ft

Peak Gross Torque (1,300 rpm) – ISO 14396

1602lbf-ft

Maximum Net Torque (1,000 rpm)

1505lbf-ft

Weights

Operating Weight

78402lb

Note

Weight based on a machine configuration with Bridgestone 875/65R29 VLTS L4 radial tires, full fluids, operator, standard counterweight, cold start, roading fenders, Product Link™, open differential axles, secondary steering, sound suppression, and a 6.1 m

Buckets

Bucket Capacities

4.6-12.0 m³ (6.0-15.75 yd³)

Transmission

Forward 1

3.9mph

Forward 2

7.4mph

Forward 3

13.1mph

Forward 4

23.3mph

Reverse 1

4.3mph

Reverse 2

8.5mph

Reverse 3

15mph

Reverse 4

24.5mph

Note

Maximum travel speed in standard vehicle with empty bucket and standard L4 tires with 914 mm (36 in) roll radius.

Service Refill Capacities

Cooling System

12gal

Crankcase

9.8gal

Transmission

20.3gal

Differentials and Final Drives – Front

24.3gal

Differentials and Final Drives – Rear

24.3gal

Hydraulic Tank

40gal

Fuel Tank

112.5gal

Operating Specifications

Static Tipping Load – Full 40° Turn – with Tire Deflection

46473lb

Static Tipping Load – Full 40° Turn – No Tire Deflection

49368lb

Breakout Force

58450lbf

Note

For a machine configuration as defined under "Weight."

Note

Full compliance to ISO 143971:2007 Sections 1 thru 6.

Hydraulic System

Implement System: Maximum Pump Output (2,250 rpm)

119gal/min

Implement System: Maximum Operating Pressure

4975psi

Hydraulic Cycle Time – Total

10.1Seconds

Sound

With Cooling Fan Speed at Maximum Value: Exterior Sound Power Level (ISO 6395:2008)

112dB(A)

With Cooling Fan Speed at Maximum Value: Exterior Sound Pressure Level (SAE J88:2013)

78 dB(A)*

Note

*Distance of 15 m (49.2 ft), moving forward in second gear ratio.

With Cooling Fan Speed at Maximum Value: Operator Sound Pressure Level (ISO 6396:2008)

75dB(A)

Dimensions – Standard Lift

Height to Top of Hood

10.17ft

Height to Top of Exhaust Pipe

12.25ft

Height to Top of ROPS

12.50ft

Ground Clearance

1.33ft

Center Line of Rear Axle to Edge of Counterweight

8.92ft

Center Line of Rear Axle to Hitch

6.25ft

Wheelbase

12.50ft

Overall Length (without bucket)

28.17ft

Hinge-Pin Height at Maximum Lift

15.50ft

Hinge-Pin Height at Carry

2.67ft

Lift Arm Clearance at Maximum Lift

12.67ft

Rack Back at Maximum Lift

57 degrees

Rack Back at Carry Height

48 degrees

Rack Back at Ground

42 degrees

Maximum Width over Tires

11.50ft

Tread Width

8.33ft

Note

All dimensions are approximate and based on Bridgestone 875/65R29 VLTS L4 radial tires.

Bucket Capacities

Bucket Range

4.6-12.0 m³ (6.0-15.75 yd³)
Find a Walker CAT

Location

or

Rep

Near You